Introduction To Shoutcast
Shoutcast streaming server synopsis
The History Of Shoutcast
Shoutcast is the original open source streaming media software. It was developed in 1998 by co-creators Stephen 'Tag Loomis, Tom Pepper and Justin Frankel, the founder of Nullsoft. Fun fact, early beta builds were released as ICY ("I Can Yell"). If you look closely in the http headers this ancient Internet relic remains.
D msg:[DST 127.0.0.1:8000] http header [icy-metadata:1]
D msg:[DST 127.0.0.1:8000] http header [user-agent:WinampMPEG/5.8]
D msg:[DST 127.0.0.1:8000] Request [GET]
D msg:[DST 127.0.0.1:8000] Protocol[HTTP]
D msg:[DST 127.0.0.1:8000] Version [2.0]
ICY 200 OK
icy-notice1:This stream requires Winamp
icy-notice2:SHOUTcast Distributed Network Audio Server/Linux v2.5.5
icy-name: Shoutcast Server
icy-genre:Genre Type
icy-url:https://rockhost.com/
content-type:audio/mpeg
icy-pub:1
icy-br:128
Nullsoft sold Shoutcast to AOL in 1999 for 80 million dollars alongside its companion broadcasting tool, Winamp. AOL later resold Shoutcast to Belgium's Radionomy in 2014 for what is believed to be between 5 and 10 million dollars with a 12% share stake in the company.
Popular Protocol
The key characteristic, even twenty years later, is ICY metadata. Thanks to the innovation of ID3 tags in 1996, MP3s still contain artist, album, track, and genre information to this day. Icy metadata was the bridge between raw audio files and the HTTP streaming protocol. This put radio broadcasting enthusiasts and musical aficionados alike face to face with a hungry new audience of nearly a million strong. Shoutcast servers pass along metadata for listener playback and public listings in the Shoutcast.com directory, which now requires the registration of an authorization hash. Private stream settings do not apply.
Shoutcast Yellow Pages
The Shoutcast.com Directory, formerly known as the Yellow Pages, is where listeners browse an index of approximately 100,000 streaming radio stations. Each listing in the search results is unique and follows a specific set of guidelines. Shoutcast sanctioned genre and sub genre types are maintained on the Winamp Forums. Register an "auth hash" through the Shoutcast 2 DNAS admin area for inclusion. Order Shoutcast server hosting to learn more.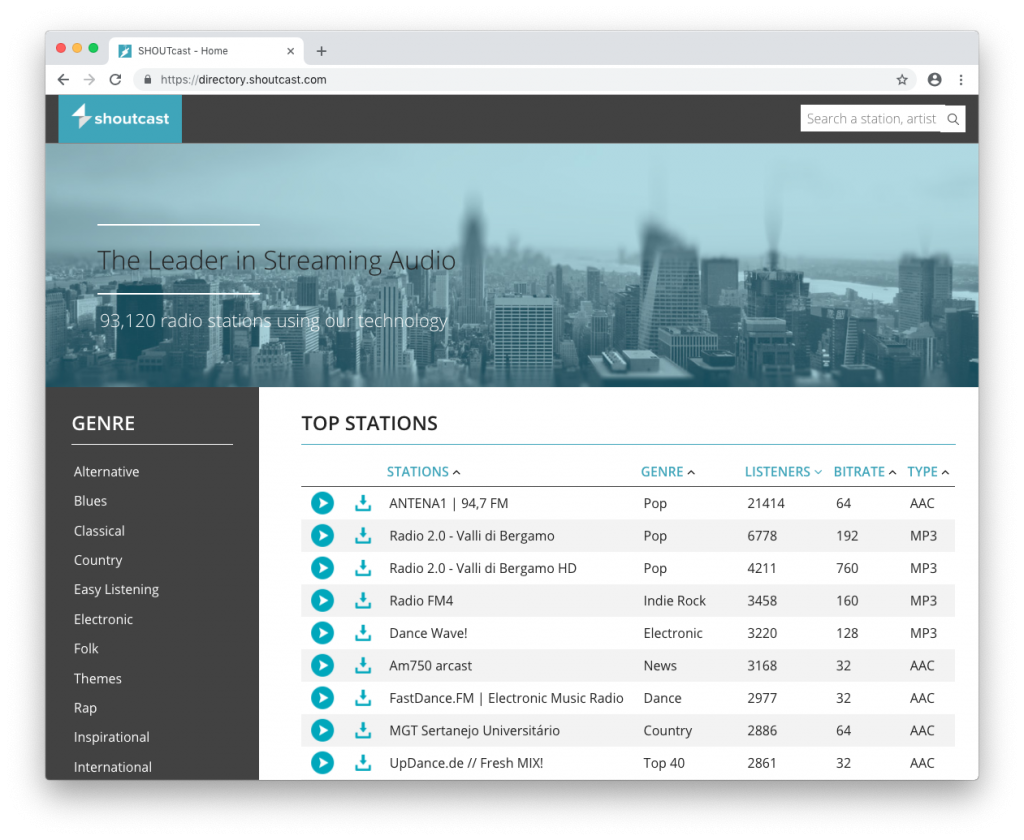 The Return Of Winamp
After lying dormant since the Radionomy acquisition, Winamp is back with a "revised" version thanks to an anonymous software leak forcing the resurrection. Winamp 6 has no official release date. However, several sources cite 2019 with a focus on mobile friendly integration. Nostalgia is at an all time high.
(Windows Only)